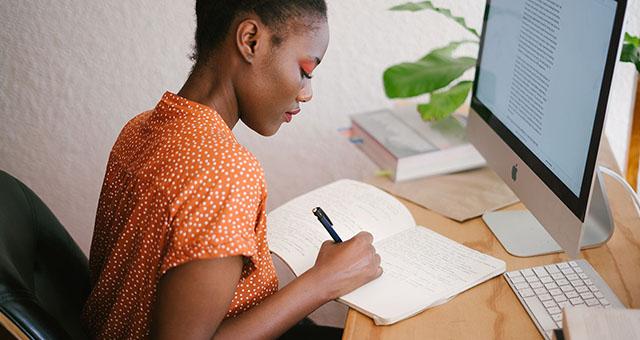 If you have a business and are looking to improve your bottom line, or have been thinking about getting a business started, now is a great opportunity to sharpen your business skills. There are a wealth of courses, classes, workshops, and webinars online which are absolutely free (or very low cost). Here is a list of some of the largest, most comprehensive collections of learning materials you can access to learn new software, get better at ones you already use, learn the latest marketing techniques, and much more.
LinkedIn Learning
Learn relevant, professional skills on LinkedIn Learning. Your library card gives you free unlimited access to more than 16,000 courses in 7 different languages: English, French, German Japanese, Spanish, Mandarin, and Portuguese. Learn how so sharpen your business skills on LinkedIn Learning here.
Class Central
Class Central lists over 40,000 online courses. Selected from many providers, the course listing makes it easy to find the best programs on almost any subject, wherever they exist. The majority of courses are free, or free to audit. Whatever you are interested in learning, it is more than likely that this course catalog includes information that will meet your needs.
Book-A-Librarian
Additional resources can be accessed based on individual need. For more information on the library's business resources, contact the library at 317-275-4184, text 317-333-6877, or through Ask-a-Librarian.
More Online Classes:
Khan Academy
Created by experts, Khan Academy's library of trusted, standards-aligned practice and lessons cover math K-12 through early college, grammar, science, history, AP, SAT, and more. It's all free for both learners and teachers.
Open Culture
Find over 150 courses, many from leading universities that will deepen your professional education. Topics include finance, technology, entrepreneurship and much more.
Alison
Alison offers over 1000 free online courses across nine distinct categories including Certificate Courses, Diploma Courses and Learning Paths.
AcademicEarth.org
Find free online courses, lectures, and videos from the best colleges in the country. Take online classes from schools like Yale, MIT, Stanford, Berkeley and Purdue.
Digitaldefynd
Another site similar to AcademicEarth, it has access to 45,000 free courses from more than 8,000 universities and there are even 1,200 free certification courses.
Open Yale Courses
Provides free and open access to a selection of introductory courses taught by distinguished teachers and scholars at Yale University.
MIT Open Courseware
A web-based publication of virtually all MIT course content. All coursework is free and there is no registration required.
Coursera
Thousands of university classes and courses. Not all, but many are free. The majority of programs are STEM based (science, technology, engineering and mathematics).
edX
Similar to Coursera, a high level education at little or no cost. The site includes over 3,000 courses from 160 member universities including MIT, Harvard, U of Texas, Boston U., and many others.
Skillshare.com
Skillshare offers hundreds of courses in Animation, Design, Illustration, Photo & Film, Business, and Writing. Get full premium access for two months for free.
Excel-Easy.com
Whether you are looking for an introduction to the program or need to brush up on pivot tables, Excel-Easy is a great website to learn Excel at any level of expertise.