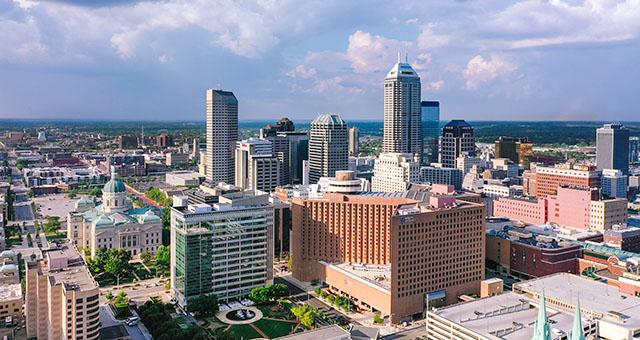 If you are starting a new business the first thing you should do is contact Central Library to learn about Indy's business organizations. Meet with a librarian one-on-one to learn more about the major factors involved in becoming an entrepreneur. Staff will share business resources including Data Axle Reference Solutions, Indianapolis Business Journal, Mergent Intellect, and Gale Reference eBooks. Attendees can arrange additional assistance based on individual need. Schedule an appointment by texting 317-333-6877 or register through Ask-a-Librarian.
During your visit, you will participate in a one hour meeting covering the major aspects of developing a new business: business plans, marketing, networking, website development, and introduction to indy's business organizations, and much more. Receive information and resources specific to your chosen field.
Our library also networks with many of the top business organizations in Indianapolis to offer you the tools needed to turn your plans into reality.
Indy's Business Organizations
Indianapolis Small Business Administration (SBA)
Since 1953, the Small Business Administration (SBA) has provided access to a wide variety of resources, funding, and job creation for small businesses. Programs include training, counseling, financial assistance, government contracting and procurement. Here are links to some of the many resources they have available:
Indy SCORE
Indy SCORE (Service Corps of Retired Executives) offers a wealth of information and assistance to small business owners. Their volunteer staff of retired executives share their time, experience, and knowledge. They serve as mentors to entrepreneurs seeking business help. Indy SCORE has approximately 80 volunteers from many business sectors. When a new client signs up for services, they are matched with a SCORE representative familiar with their business model. The representative can offer both information and advice on various aspects of the client's venture.
Indiana Small Business Development Center
Indiana Small Business Development Center (ISBDC) is a great resource for the formation, growth, and sustainability of Indiana's small businesses. ISBDC provides entrepreneurs expert guidance and a comprehensive network of resources. They can help find financing for your business, help with market research, and much more. ISBDC offers numerous seminars and workshops throughout the year which can be accessed through Eventbrite.
ASCENT
Ascent is a recent addition to the services offered by the SBA. It is an online educational resource specifically for women entrepreneurs. It is designed to help them become more knowledgeable and effective in starting and operating their businesses. There are videos, exercises, infographics, discussion guides, and other tools, broken down into five major topics called JOURNEYS. All resources are free and can be worked on at your own pace.
Indianapolis Chamber of Commerce
Of the many business services available through non-profit agencies in Indianapolis, the Chamber of Commerce offers some of the most vital and impactful resources for entrepreneurs. Providing both education and financial services, the Indy Chamber has three separate business teams to help entrepreneurs in a variety of ways. These three teams include the Business Ownership Initiative, the Central Indiana Women's Business Center, and the Hispanic Business Council. Depending on your specific business needs, the Chamber can supply you with a coach to help strategize the progress and development of your business; there are a number of loan programs and grants available, as well as classes, workshops and seminars on many of the topics you need to understand to get your business growing. Here are just some of the most popular programs:
Business Ownership Initiative (BOI)
Business Ownership Initiative (BOI) is the umbrella organization for the Entrepreneurship Division. BOI aims to help Central Indiana residents start and grow businesses. To do so, BOI offers free one-on-one business coaching, access to financing, business workshops, and online business courses.
BOI Micro-loans Program
BOI Micro-loans Program Hosted by the Indy Chamber, the Business Ownership Initiative allows entrepreneurs to apply for microloans ranging from $1,000 to $50,000. To minimize barriers to successful entrepreneurship, these loans are available for start-ups or existing businesses, with no minimum credit score required and ITIN accepted in place of SSN (making this available to immigrant entrepreneurs as well).
Central Indiana Women's Business Center
Central Indiana Women's Business Center (CIWBC) connects women business owners to resources and each other. As a result, it provides a support process to nurture and advocate for the development of women owned businesses. They sponsor a "Women in Business" event series, held four times per year on a variety of topics led by women professionals both locally and nationally recognized. Attendees learn about contemporary issues while creating valuable networking connections.
(BOI) ED2Go Online Instruction Center
(BOI) ED2Go Online Instruction Center ED2Go is a platform that BOI uses to easily provide access to business education. The site offers a wide range of highly interactive courses that you can take entirely over the Internet. All of the courses are led by expert instructors, many of whom are nationally known authors. The online courses are affordable, convenient, and packed with valuable information.
Hispanic Business Council
Hispanic Business Council (HBC) works to better assist the Hispanic business community. HBC offers networking events, bi-lingual business coaching, and educational programs such as the "Mentor-Protégé Program" and "Accelerate Latinx". Experienced mentors help guide the novice business owner through the often complex and confusing requirements of developing a business. Numerous local and regional events also give entrepreneurs the opportunity to network, learn from, and support one another's efforts. To learn more browse their calendar of events.
Indy Black Chamber of Commerce
Indy Black Chamber of Commerce was established in January 2015 with the goal of serving as an information resource for developing black-owned businesses. The Indy Black Chamber of Commerce provides mentoring, seminars, and network functions with opportunities for business development, growth, and success. On the last Friday of each month they also host "The Friday Group." This gathering includes guest speakers discussing topics such as business startup requirements, branding your business, and how to find government contract opportunities.
More Small Business Organizations
INBIZ (Secretary of State & Dept. of Revenue) is Indiana's one-stop resource for registering and managing your business and ensuring it complies with state laws and regulations. In partnering with the Secretary of State, Department of Workforce Development and the Department of Revenue, INBiz has created a comprehensive portal that provides a streamlined and expedited process for your business needs. From registering your business's name to filing the necessary paperwork for incorporation, registering your trademark, or accessing Secretary of State forms, you need go no further than INBiz. The web portal is easy to use. Explore videos, tutorials and even an online "chatbot" who will answer any questions you may not be able to find the answers to on your own.
OpenCounter INDY will help you estimate the fees, permits, and licenses necessary to start or expand your business in Indianapolis. OpenCounter Indy has a simplified process for permits, licensing, and zoning. This easy-to-use website takes the often baffling process of opening a business and makes it much less stressful. Enter your data once. Then OpenCounter Indy tells you exactly what you need to do to open the doors of your business, what forms you need to file, estimates of permitting and licensing costs, and how long the process is going to take.
Organizations for Veterans
Procurement Technical Assistance Center (PTAC) provides procurement technical assistance to help existing small businesses sell products or services to the appropriate government agency. By offering confidential counseling services and workshops at no cost. At the core of the procurement assistance program is counseling and education. Your local PTAC office can provide you with a range of services and resources to successfully compete and receive government contracts. Indiana PTAC can connect you with events and workshops to help your business succeed in the government marketplace.
Veterans Business Outreach Center (VBOC) assists Veterans, Active Duty, Guard and Reserve Members in the formation and expansion of their businesses. VBOC offers a wide variety of services and opportunities including workshops, classes and information on financing your business, writing an effective business plan, marketing, accounting and other related topics. They offer business mentors who can help with securing financing, fixing your credit score, networking with other businesses and agencies. VBOC also provides assistance and training in such areas as international trade, franchising, internet marketing, accounting, and more.
More Business Resources from IndyPL