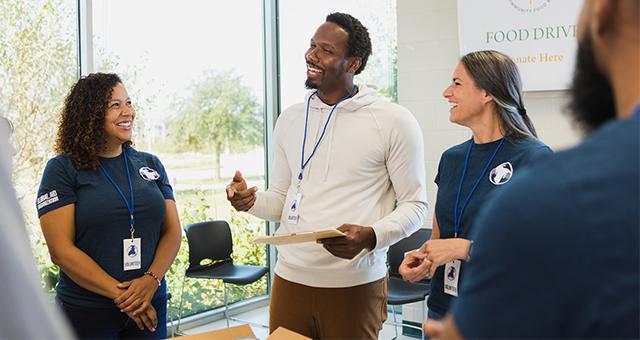 Thinking of starting a nonprofit organization? First consider that . . .
"Starting a nonprofit may be the most complicated way to act on your passion to serve your community. It requires much planning, time, effort, and money just to start, but the biggest challenge is to develop and maintain reliable income streams. Estimates vary, but most experts agree that less than half of nonprofit startups survive beyond five years. Of those that survive, perhaps one-third are in financial distress." (From What are alternatives to starting a nonprofit?, an article in Candid's "learning community for the social sector.")
Tips for Getting Started
If you decide to explore setting up a nonprofit, have already done so, or work for a nonprofit organization, Candid Learning has much to offer. So check out the TRAINING, TOPICS, RESOURCES, or Ask Us tabs across the top of the page. Ask Us is Candid's way for you to engage their team of experts. As a result, they can answer questions about foundations, philanthropy, fundraising and nonprofits, and more.
State of Indiana: Resources for Nonprofits and Faith-Based Organizations
Business Plans Handbook Creating a business plan can help a nonprofit organization describe how it intends to implement its mission and achieve its set of goals and objectives. (To access this database outside the library, you will need to log in with your IndyPL library card.)
IndyPL's 2023 Nonprofit Program Series
IndyPL's nonprofit program series offers training on a variety of nonprofit management topics. Past workshops have included starting a nonprofit, fundraising, recruiting volunteers, developing a board of directors, and more.
Recommended Program Development Tools
Measuring Program Outcomes: A Practical Approach: by United Way of America's Task Force on Development.
Funding for Nonprofit Organizations
Before you do, read Is Your Organization Grant Ready? to determine if your nonprofit should invest time and money pursuing such funding at this point.
If you decide the time is right to pursue grants, consider these resources:
The Indianapolis Public Library is a Funding Information Network partner with Candid, headquartered in New York City. As such we provide access to their subscription databases Foundation Directory Online and Foundation Grants to Individuals Online. (Currently at Central Library only)
NOTE: We are currently able to provide you with temporary remote access to Foundation Directory Online Essential from home.
For an introduction to using Foundation Director Online, see this video presentation, How to use the New FDO.
Considering Government Grants? See General Guide to Government Funding produced by Congressman Andre Carson's office.
Volunteers
The Value of Volunteer Time "helps acknowledge the millions of individuals who dedicate their time, talents, and energy to making a difference. Charitable organizations can use this estimate to quantify the enormous value volunteers provide."
Local Nonprofit Resources
Charitable Allies "Charitable Allies is a charity that provides legal, educational, administrative support, training, and consulting services to nonprofits."
Community Development Legal Project – The Community Development Legal Project (CDLP) was started by Indiana Legal Services (ILS). It offers a variety of legal services to eligible nonprofits, community organizations, and low income individuals free of charge. Legal issues can be complex. Since cost for help navigating legal issues can be prohibitive, the CDLP can help alleviate some of these concerns. It also offers services statewide to existing eligible nonprofit organizations and aspiring entrepreneurs looking to start a profit or nonprofit business venture. CDLP services can include help with legal issues such as those related to the formation of a new entity. Additionally, CDLP can help with legal concerns related to ongoing business operations, such as governance, contract, real estate, tax, and employment issues.
If your organization is in need of legal assistance, or determining whether an issue your organization is facing may be better addressed with the help of an attorney, your organization should consider contacting the CDLP project attorney to discuss whether assistance is available.
Central Indiana Nonprofit Salary Report "Prior to the 2010 Nonprofit Salary Report, a comprehensive summary of nonprofit 501(C)3 salaries and benefits did not exist, so we were excited to begin a tradition that we feel is very important to the current and future vitality of the
Central Indiana nonprofit sector."
Indiana State Data Center Grant writers often need demographic data from the Census and other local sources. Contact the Indiana State Data Center, your safety net for stats.
Indiana Nonprofit Database This is a single, comprehensive listing of nonprofit organizations in the state— a joint product of the Indiana University Center on Philanthropy, the Indiana University School of Public and Environmental Affairs and the Indiana Business Research Center as part of the Indiana Nonprofits Project: Scope & Community Dimensions.)
Social Assets and Vulnerabilities Indicators "Whether you're a grant writer seeking vital funding or an executive director developing a strategic plan, SAVI helps you make informed decisions based on the social, economic and other demographic realities in some 2,000 Central Indiana communities." Free training on SAVI is available at the Polis Center. The full course options are available here.
IndyVitals measures the long-term impact of the work of Plan 2020 partners at the neighborhood level.
The Human Needs Index (HNI) is believed to be the first multidimensional measure of poverty in the United States from the nonprofit perspective. The high-quality, monthly data from The Salvation Army goes back to 2004 and illuminates trends in poverty and vulnerability.
Association of Fundraising Professionals-Indiana "The Association of Fundraising Professionals-Indiana Chapter fosters the growth of development of philanthropy, the fund-raising profession, the Chapter, and its individual members."
Indiana Philanthropy Alliance is a nonprofit membership association of and for the state's philanthropic grantmaking community. Our members include public and private foundations, corporate giving programs, governmental grantmakers, regranting organizations, philanthropic advisors and other qualified individuals. Collectively, our membership holds about $12.5 billion in assets and awards more than $500 million in grants each year. IPA itself does not make grants.
Investigating Tax-Exempt Organizations
Internal Revenue Service Nonprofit Tax Information
Tax Exempt Organization Search (formerly Select Check) Tax Exempt Organization Search helps users find information about a tax-exempt organization's federal tax status and filings.
National Directory of Nonprofit Organizations A comprehensive guide to the growing nonprofit world designed for marketers, sales staff, and nonprofit professionals. Provides contact and basic factual information on the largest nonprofit organizations in the United States. Go to IndyPL Research. Select Gale Directory Library. Then scroll to find National Directory of Nonprofit Organizations. (In order to access the databases outside the library, you will need to log in with your IndyPL library card.)
ProPublica's Nonprofit Explorer "Use this database to view summaries of 3 million tax returns from tax-exempt organizations and see financial details such as their executive compensation and revenue and expenses. You can browse IRS data released since 2013 and access over 9.6 million tax filing documents going back as far as 2001."
Online Newsletters and Blogs for Nonprofit Organizations
Candid Learning Blog "highlights the knowledge you need to be a better grantseeker. Join the conversation."
Indianapolis Not-for-profit News "For 15 years, Charitable Advisors has worked to provide relevant information and is designed to be your "one-stop" nonprofit-sector resource. The weekly e-newsletter is sent directly to your email and is now mobile friendly. If you want information that is important to your work and keeps you up to speed on what your peers are doing, Not-for-profit News is the information source for you."
Periodicals (paper format)
The Chronicle of Philanthropy PERIODICAL
Giving USA 361.7 GIV
Grassroots Fundraising Journal PERIODICAL (Grassroots Fundraising Journal, a beloved publication with a history of over 35 years, has paused publication indefinitely. The last issue was July-August 2018. While there are no current plans to produce new articles, we know that thousands of people continue to find the fundraising information, case studies, and how-to instructions valuable. The full archive of the Journal is now available free to the public. By freeing up access to the archive, we can continue to spread fundraising knowledge and lift up the work of sustaining grassroots organizations.
Library Computer Catalog Searches and E-Books and Audiobooks from Candid
Questions about Indypl's nonprofit resources? Email our Nonprofit Librarian, Chase Martin, or call Central Library and ask to speak with someone on the Nonprofit Team.