Children Ages 0 to 5 Vote!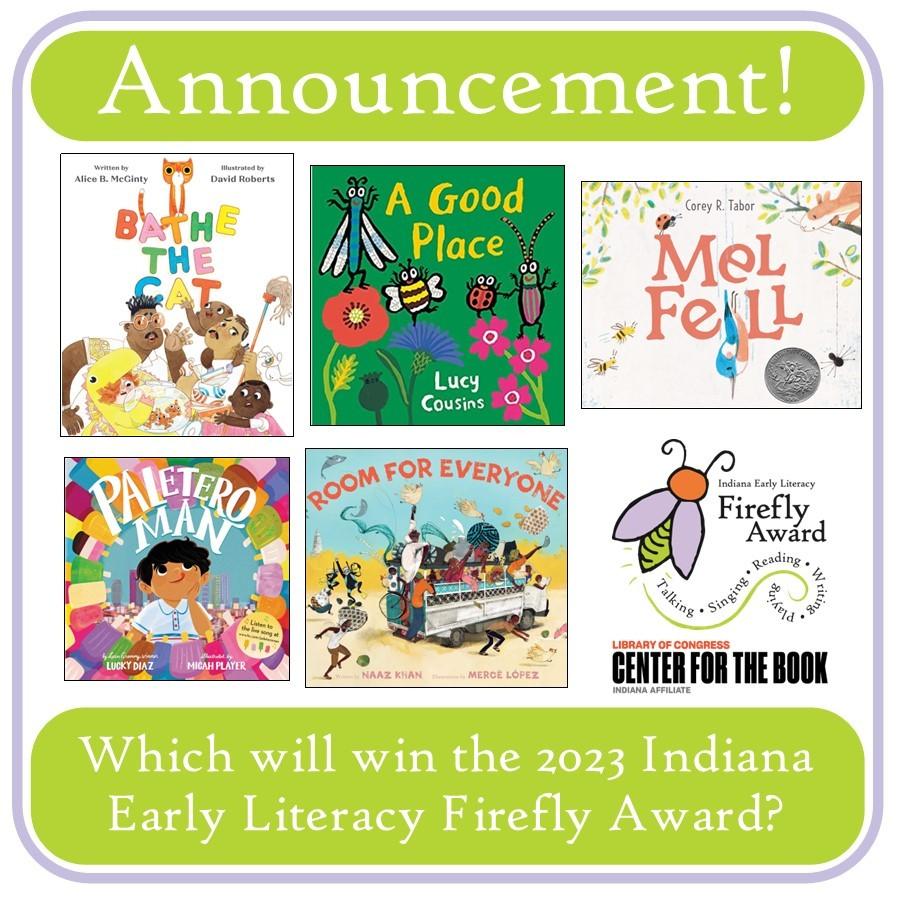 The Indiana Early Literacy Firefly Award is given by the Indiana Center for the Book. Every year children listen to the nominees and vote for their favorite. Watch a video read aloud of each of the five nominated books even though voting this concluded on July 31, 2023.
Add to the fun with activities prepared by Indiana Center for the Book and the Indiana State Library as well as this Indiana Early Literacy Firefly Award activity sheet.
Nominations for 2023-2024
Nominations are currently being accepted from for the 2023-2024 Award! This is YOUR CHANCE to influence what books appear on the ballot. See more details on criteria for nominating at the Firefly Award. 
Research shows that reading aloud to young children can significantly improve their chance for success in kindergarten and beyond. You can also help kids enjoy books and stories by joining 1000 Books Before Kindergarten. Caregivers log books and receive incentives for reading outloud to kids. At 1000 books, every child receives a hardback picture book. Or check out a Bunny Book Bag, grab-and-go bag of 15-20 books for caregivers on the move. Are you in the mood from some stories right now? Enjoy online storytime at The Library!
2023 Nominees to Check Out with your IndyPL Library Card
Your children can help choose the Firefly Award winner. Read all five books and have them pick their favorite one. Go to the online ballot in this list to submit their choice. The last day to vote is July 31, 2023. Every child in Indiana, ages 0 to 5, can vote once for the award. You can also print a paper ballot and turn it in to a library branch. #indyplkids

Reading Ready is an Indianapolis Public Library early learning initiative that encourages the five practices that help children get ready to learn how to read: reading, singing, writing, talking, and playing.