Explore Indianapolis's local Black history by browsing through these online portals, digitized newspapers and documents, photo galleries, artifact collections, images, documents, and more.
Digital Indy Archive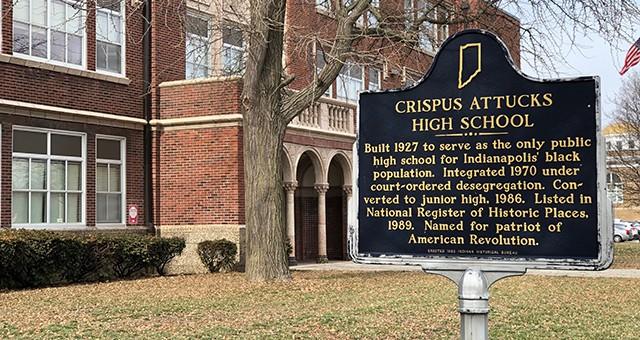 Crispus Attucks High School Year Books
In 1927, Crispus Attucks High School opened its doors as Indianapolis' first and only all-Black high school.

Black History, Indianapolis History
Black history has a long presence in Indianapolis and makes up the very fabric of the city. Six years after the founding of Indianapolis, out of the 1,066 total residents 55 were African American (source). There is no history of Indianapolis without Indianapolis' vibrant and diverse Black population.

Indianapolis Public Library African American History Committee
Find information here about past AAHC events, lectures, and exhibits. View posters, programs, news items, and compilations of African American authors and illustrators.
Encyclopedia of Indianapolis

To learn even more about fascinating and inspiring black history makers, visit the Center for Black Literature & Culture at Central Library. The Center is dedicated to celebrating the vibrant and resilient heritage and triumphs of those born of African roots.
Local Black History – Indiana
Local Black History – Indianapolis
African-American Hospitals and Health Care in Early Twentieth Century
Indianapolis, Indiana, 1894-1917 by Norma B. Erickson (2016): Study – Master Thesis: African American nurses, doctors, and images of African American hospitals (Ward's, Lincoln, and Sisters of Charity) in Indianapolis.
Hoosier State Chronicles
Digitized African American Newspapers
Indianapolis at the Time of the Great Migration, 1900-1920
Originally published in August 1996 (No. 65) Black History News & Notes, a newsletter of the Indiana Historical Society. Highlights the movement of African Americans from the South to Indianapolis and the different infrastructure, job opportunities, residential segregation, and other inequalities they encountered once they arrived in the city.