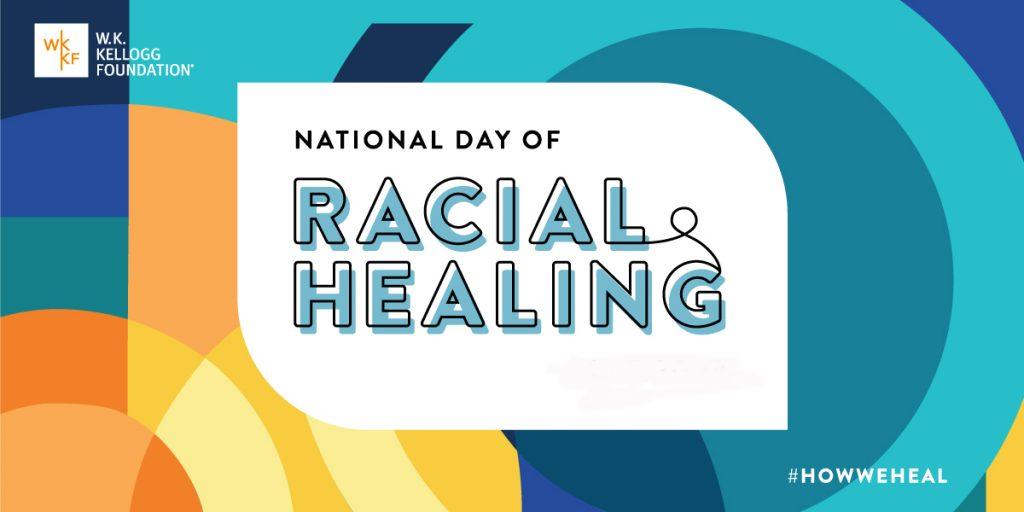 The National Day of Racial Healing is on the Tuesday after Martin Luther King Jr. Day. It is hosted by the W.K. Kellogg Foundation collaboration with the Truth, Racial Healing & Transformation community partners. It is an opportunity to recognize and acknowledge racialized wrongs that have detrimental consequences. Racial healing is about repairing that damage and creating a more just and equitable world. Learn more about the Foundation and its work.
"The National Day of Racial Healing is a time to contemplate our shared values and create the blueprint together for #HowWeHeal from the effects of racism. Launched on Jan. 17, 2017, it is an opportunity to bring ALL people together in their common humanity and inspire collective action to create a more just and equitable world."
Conversations about race and racism can be difficult and uncomfortable. Do you know someone you would like to talk to about racism but haven't known how? Books have always been great conversation starters. You can help start a conversation on racial healing in your own family, neighborhood, workplace, church, or community by using these resources developed by the Foundation and their community partners.
Conversation Guide
Reading Lists & Book Discussion Guides
Three themes are available for book clubs or group readings in a church, school, neighborhood, or family. Each theme includes reading lists and discussion questions. Here are the recommended titles linked directly to our catalog as well as a link to each theme to locate the corresponding discussion questions.

Deeper Than Our Skins: The Present is a Conversation with the Past
Finding Your Voice: Speaking Truth to Power
Growing Up Brave on the Margins: Courage and Coming of Age
More Resources for Talking About Race:
Talking About Race is an online portal from the National Museum of African American History & Culture designed to help individuals, families, and communities talk about racism, racial identity and the way these forces shape every aspect of society, from the economy and politics to the broader American culture. The online portal provides digital tools, online exercises, video instructions, scholarly articles and more than 100 multi-media resources tailored for educators, parents and caregivers—and individuals committed to racial equality.
EmbraceRace supports parents to raise children who are brave, informed and thoughtful about race. Their site has a variety of articles for parents and caregivers.
WeNeedDiverseBooks has compiled resources from members of their community on race, equity, anti-racism, and inclusion. They offer an extensive list of resources for children, teens and adults including book recommendations, links to online articles, and a list of black owned book stores by state.