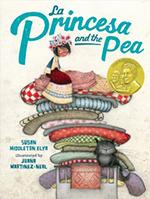 Fairy tale classics like The Princess and the Pea transform when they are set in a new place or told from a new point of view. La Princesa and the Pea is a retelling of the classic fairy tale, The Princess and the Pea, set in Peru. In it, a princess's authenticity is tested by her ability to feel the presence of a single pea under the pile of mattresses she is instructed to sleep on.
There are lots of stories like The Princess and the Pea that kids can rattle off without even thinking very much – The Three Little Pigs, The Three Bears, Cinderella, etc. Some of these stories are so commonly told that children all over the world know them. When the stories are told in different places, they take on interesting differences that reflect the land and culture where the story is being told.
The illustrator of La Princesa and the Pea, Juana Martinez-Neal, won the 2018 Pura Belpre Award for doing an outstanding job of communicating cultural identity through illustration. The award is given for the best work portraying the Latino cultural experience. In Juana's Illustrations in La Princesa and the Pea, for example, you can see authentic Peruvian weaving like the weaving you see in these Peruvian artifacts from The Children's Museum of Indianapolis.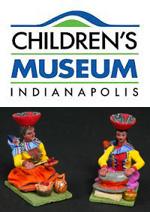 As you read the story, look closely at the illustrations to see all the steps that are required to make a weaving. As the story of the princess is revealed, so is the Peruvian setting and the experiences of a young lady living there. Classic tales told like this are wonderful opportunities for you to see your own culture reflected in a universal story or see the culture of someone different than yourself. Read more from the list below!
Use your indyPL Library Card to check out books at any of our locations, or check out e-books and e-audiobooks from home right to your device. Need help? Call or ask a Library staff member at any of our locations or text a librarian at 317 333-6877.