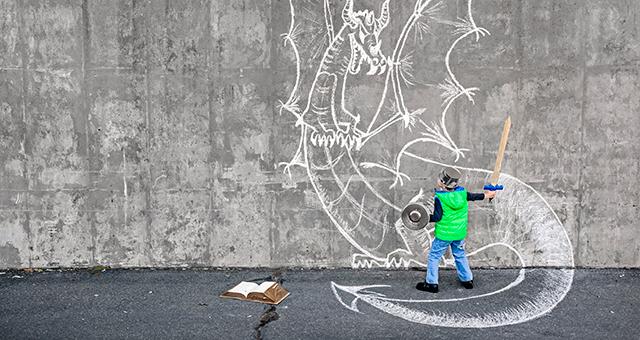 Imagine Your Story! Close your eyes and picture yourself crawling through caves, climbing ocean cliffs, making the game winning basket, winning a singing competition, or outsmarting a fire breathing dragon! Stories can take you places you have never been to do amazing things. Sometimes the places have never really existed, like Hogwarts, but that doesn't mean you can't have wonderful adventures there! For an afternoon of fun, try these imagination activities.
Listen to a Story
Dragons are a favorite character in many imaginary stories. They can be fierce, or funny, or loyal companions. Here are five favorite dragon stories you can read or listen to online as well as two more about magical, enchanting places and the adventures that happen there. Click on a book cover to read or listen to the story.
My Father's Dragon is the story of a boy who runs away from home to rescue a baby dragon. He can talk to animals, he travels to an exotic island, he battles alligators, and he hopes to take home a baby dragon! You can read My Father's Dragon as an e-book or follow along below as it is read aloud.
Here are three more award winners about fantastical adventures in imaginary places. The Graveyard Book is about a boy raised in a graveyard by the ghosts who live there! Sylvester and the Magic Pebble is the story of a donkey who makes an unintentional wish, turning himself into a pebble. And Where the Wild Things Are is the story of a boy who takes a magical journey, all while stuck in his room after being sent there for being a wild thing! Click on a book cover to read or listen to the story.
Imagination Activities
Try one of these online or printable activities at home to learn more about dragons. Imagine having a dragon for a friend. What kind of adventures would you have together? Imagine your own dragon story and then draw pictures to go with it!
Embrace Imagination and Curiosity
Here are some favorite books for imaginative and curious minds. These books invite us to look past our everyday lives, to ask questions about the world around us, and to open our minds to the fanstastical!

Need help? Ask a Library staff member at any of our locations or call, text or email Ask-a-Librarian. Additionally, the Tinker Station helpline at (317) 275-4500 is also available. It is staffed by device experts who can answer questions about how to read, watch and listen on a PC, tablet or phone.