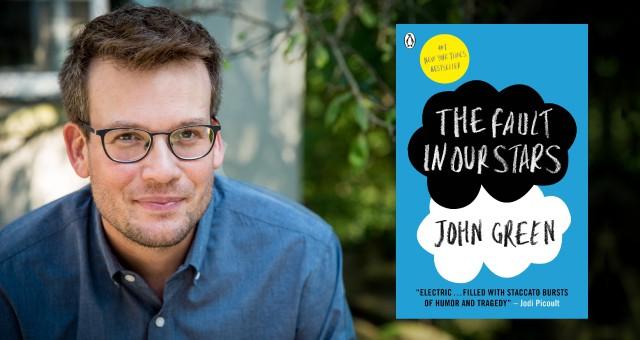 National Banned Books Week takes place in October. It is an annual celebration of the freedom to read. It was launched in 1982 as a response to a growing number of challenges to books in schools, bookstores, and libraries.

"Our 2023 Banned Books Week theme – 'Let Freedom Read' – captures what's at stake for our democracy: that the safety of our right to speak and think freely is directly in proportion to our right to read." Lessa Kanani'opua Pelayo-Lozada, President of the American Library Association
To kick off the week in 2023, we celebrated the Freedom to Read with John Green
We hosted #1 New York Times bestselling author and Indianapolis resident, John Green and former Indianapolis Public Schools (IPS) educator and Indiana State Senator Andrea Hunley (District 46) on October 2 at Central Library. To a packed house, John and Andrea discussed the importance of protecting our freedom to read. We don't have a recording of John's talk but can share eight memorable highlights:
What we read shapes what we think. The best example of this in a book is Fahrenheit 451.


Libraries don't exist for everyone to be comfortable with every book in the library. I have profound disagreements with some books in the library, and that's ok.


When people tell you who they are, believe them.


There is power in the story. Structures of power try to take stories. Books that get banned are often the most needed. We have to fight to keep them in libraries.


I am heartened by all the people working on our problems. Look for the people trying to address these problems. Find hope in that.


Nothing can be truly neutral, that doesn't mean we shouldn't work toward an array of voices. You can't be neutral, but you can be inclusive.


If we are going to make progress together, we have to assume a position of a good faith conversation.


Upon hearing who our next visiting author is, "Gene Luen Yang?! He's my favorite!" Gene will be appearing at Central Library on Tuesday, October 10. Register for your free ticket!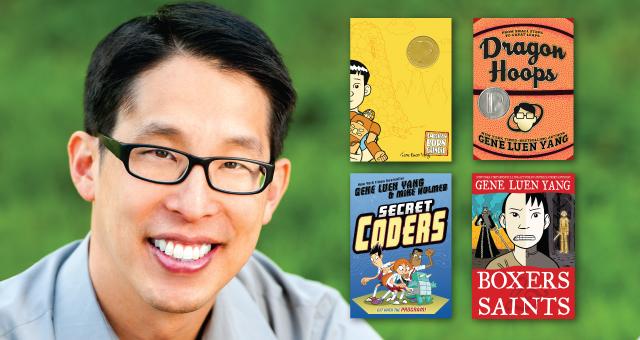 "I believe very strongly in the freedom of expression and in teenagers' rights to read, and I feel very strongly that other parents shouldn't have any say in what my kids get to read," he said. "As long as that fight goes on, I feel obligated to lend my voice to it." John Green, New York Times, August 31, 2023
Book Bans are Rising
Book bans are rising at a rapid pace in school districts around the United States, according to a report from PEN America. Data compiled by the American Library Association also indicates an unparalleled number of reported book challenges in 2022.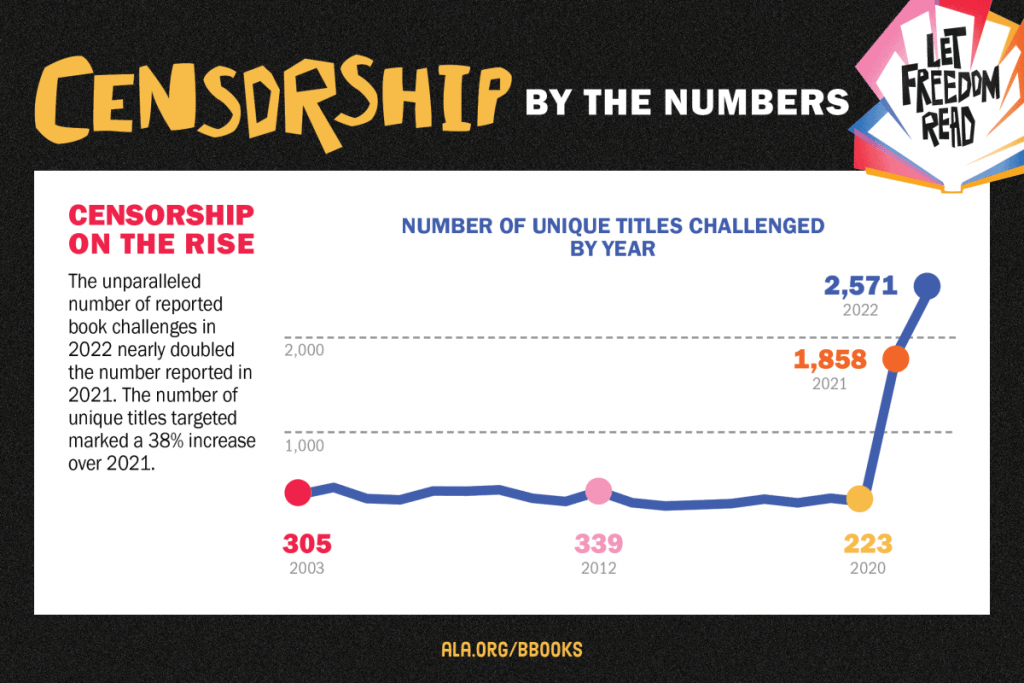 Green's community discussion underscores the importance of unrestricted access to information and the power of literature to challenge conventional norms.
Green's young adult (YA) novel Looking for Alaska is listed among the American Library Association's most banned books in 2022, and it has been referenced in nationwide discussions on book banning and reshelving in schools and public libraries. His YA novel, The Fault In Our Stars, has also been challenged and pulled from the shelves of school library collections and public libraries.
At The Indianapolis Public Library, Green's titles are on the shelf in the Teen collection, circulating and in demand. Listen to The Indianapolis Public Library's CEO, Gregory A. Hill, Sr., share The Library's role in protecting a community's freedom to read.
"When we ban books, we're closing readers off to people, places, and perspectives. But when we stand up for stories, we unleash the power that lies inside every book. We liberate the array of voices that need to be heard and the scenes that need to be seen." The American Library Association
Join Our Banned Books Week 2023 Reading Challenge
Stand up for the right to read! Join the community October 1-31 to learn about new perspectives and celebrate the freedom to read with books that have been challenged or banned throughout the years. Log your time spent reading and complete activities to earn badges.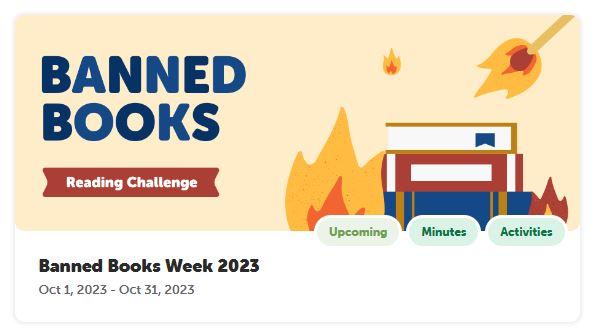 How to Register
On the Beanstack app:
Search for "Beanstack" in the App Store or Google Play Store and follow the instructions to create an account. If you already have an account, you need only enroll in "Banned Books Week 2023" with IndyPL.
On the web:
In your browser, visit our Beanstack page to create an account for yourself. You can log back in to track your progress. If you already have an account, you need only enroll in "Banned Books Week 2023" with IndyPL.
Top Ten Banned Books 2022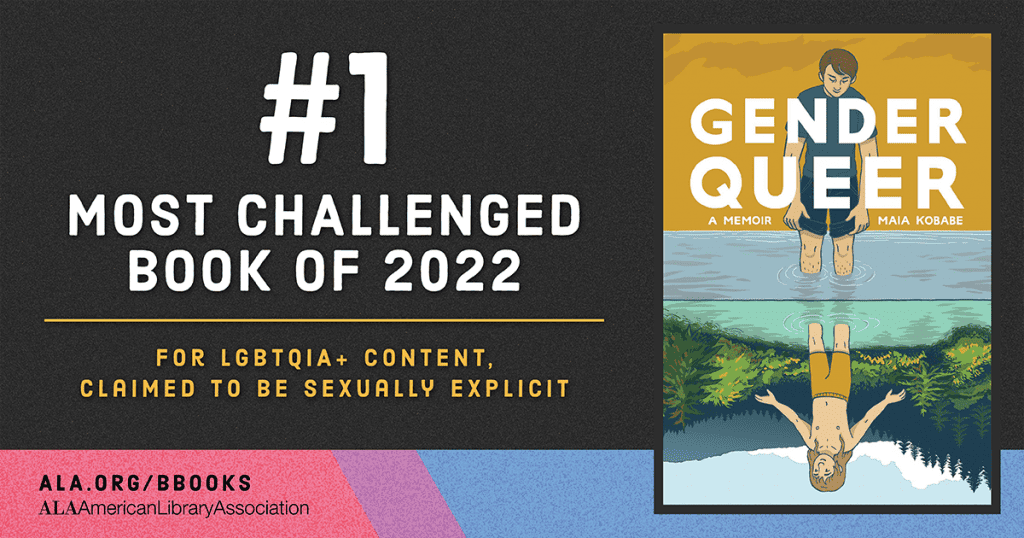 #1 Gender Queer
by Maia Kobabe
print | e-book | e-comic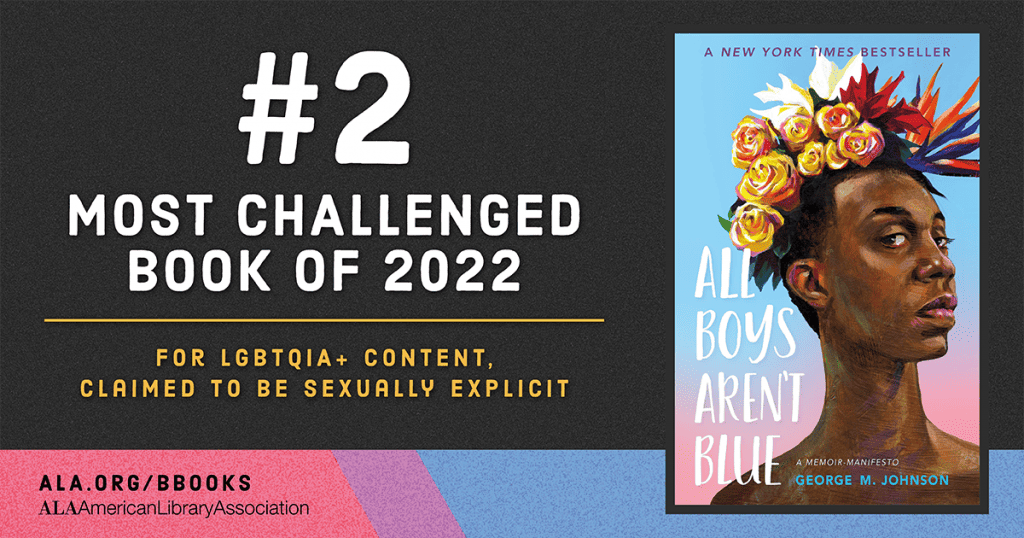 #2 All Boys Aren't Blue
by George Johnson
print | e-book | e-audiobook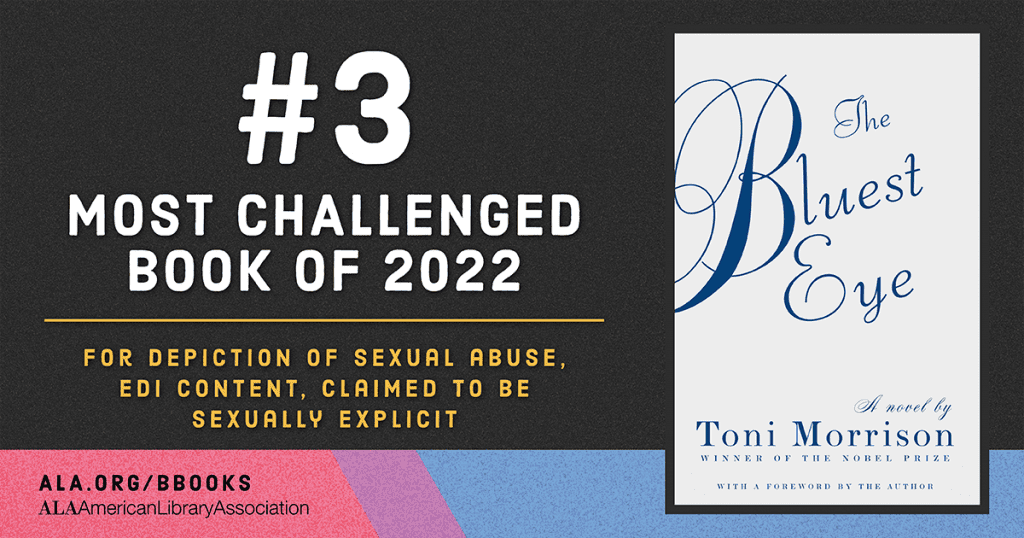 #3 The Bluest Eye
by Toni Morrison
print | e-book | e-audiobook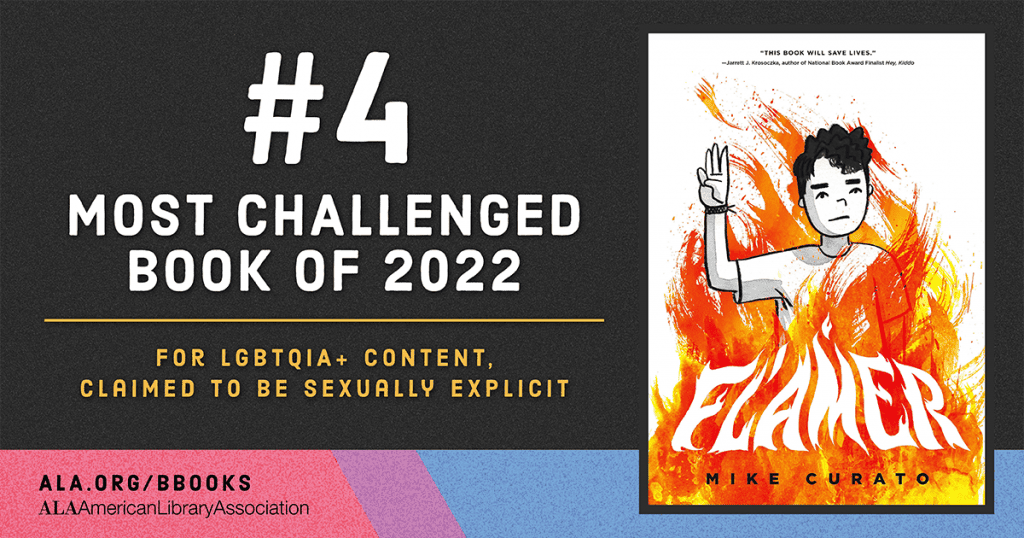 #4 Flamer
by Mike Curato
print | e-book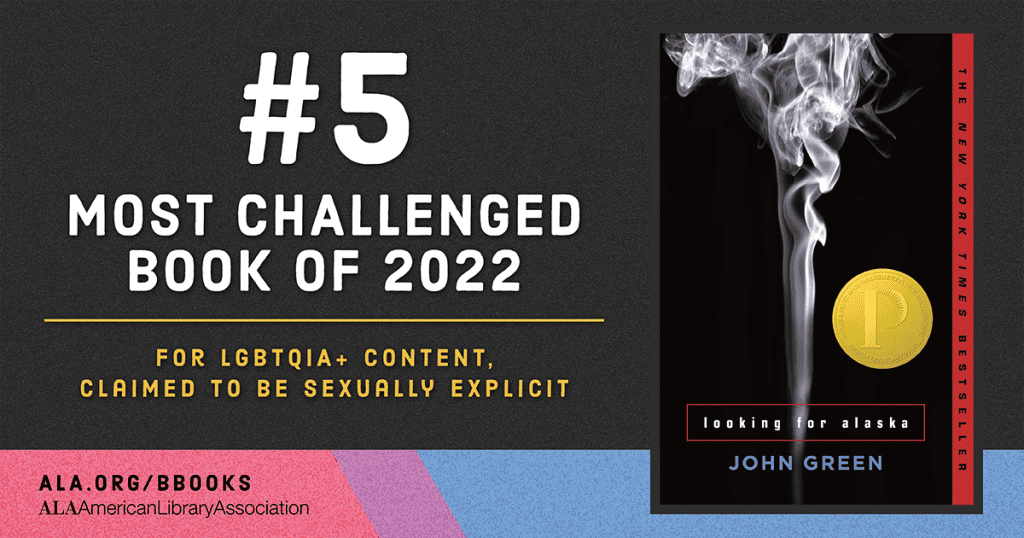 #5 (tie) Looking for Alaska
by John Green
print | e-book | audiobook CD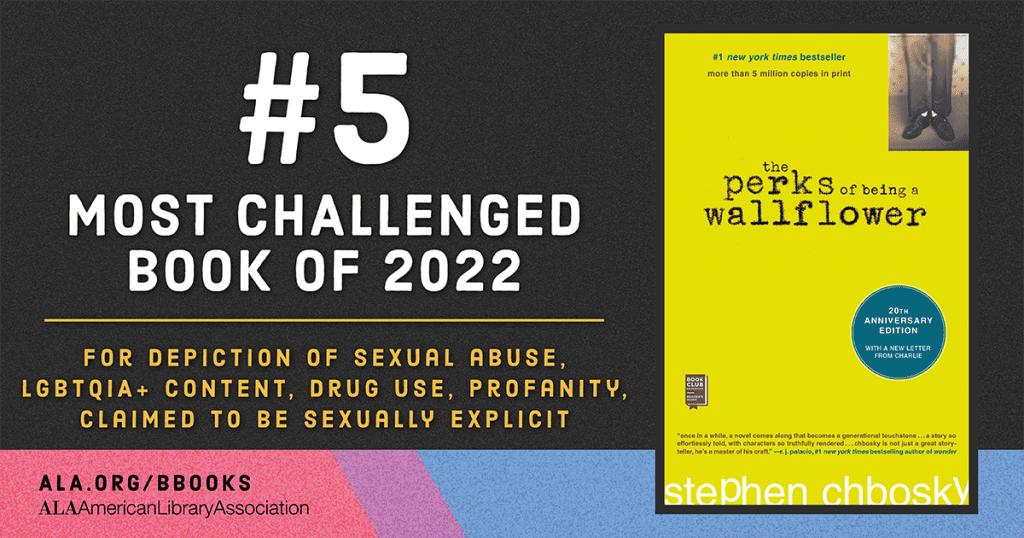 #5 (tie) The Perks of Being a Wallflower
by Stephen Chbosky
print | e-book | e-audiobook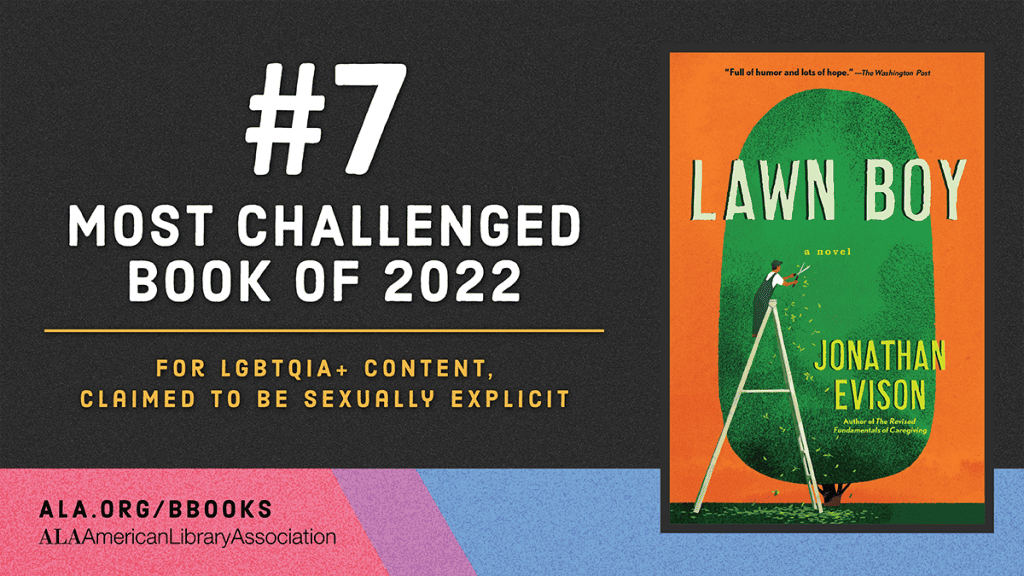 #7 Lawn Boy
By Jonathon Evison
print | e-audiobook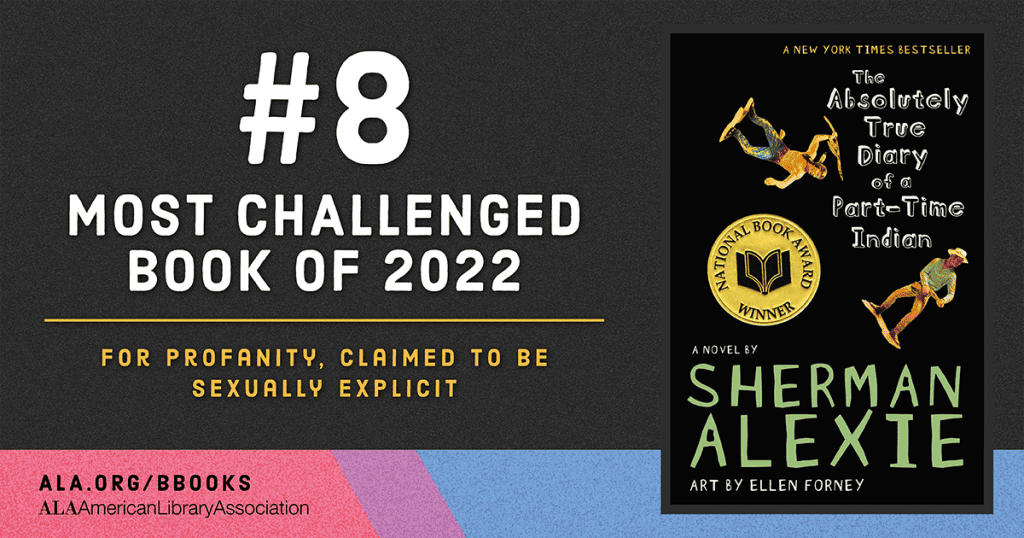 #8 The Absolutely True Diary of a Part-Time Indian by Sherman Alexie
print | e-audiobook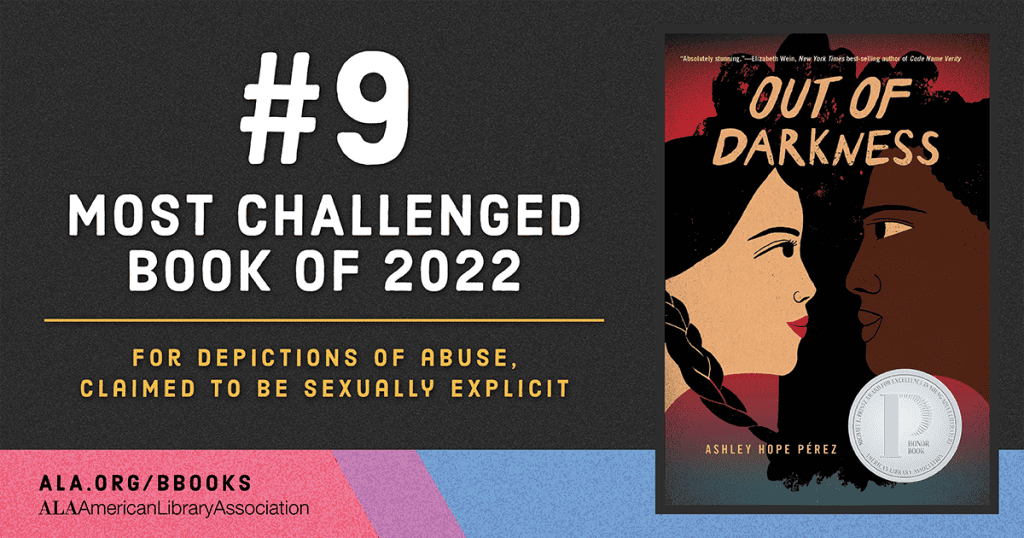 #9 Out of Darkness
by Ashley Hope Pérez
print | e-book | e-audiobook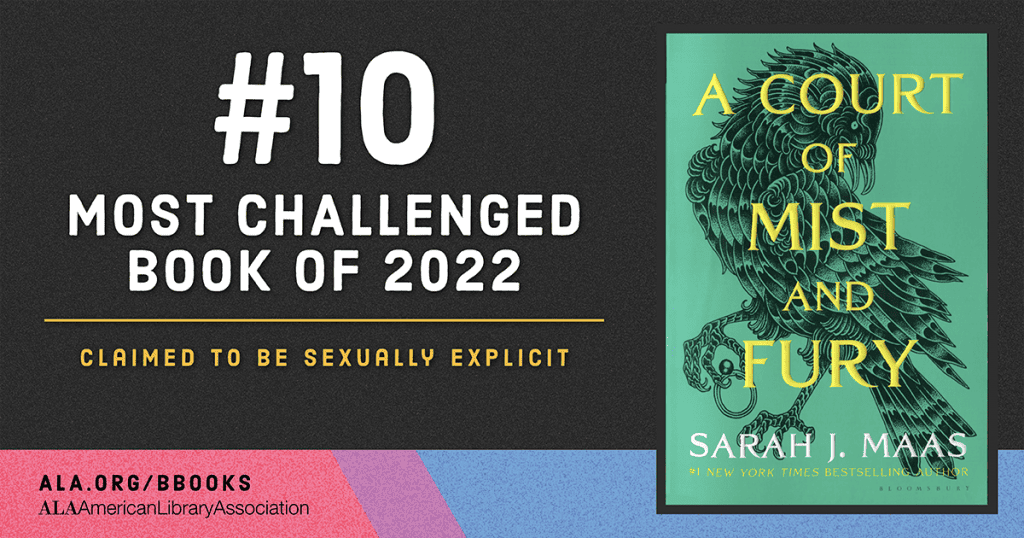 #10 (tie) The Court of Mist and Fury
by Sarah J. Maas
print | audiobook CD | Spanish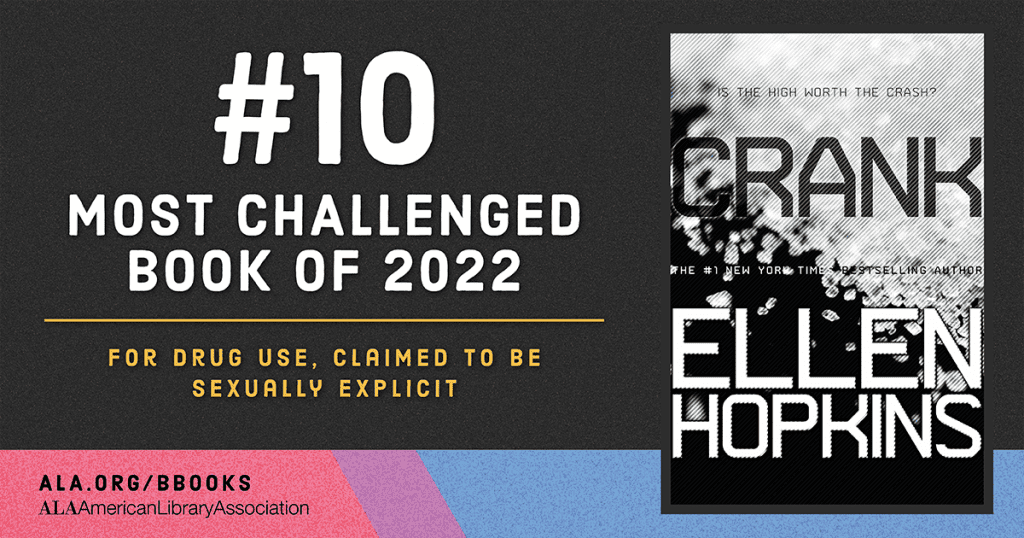 #10 (tie) Crank
by Ellen Hopkins
print | audiobook CD | Spanish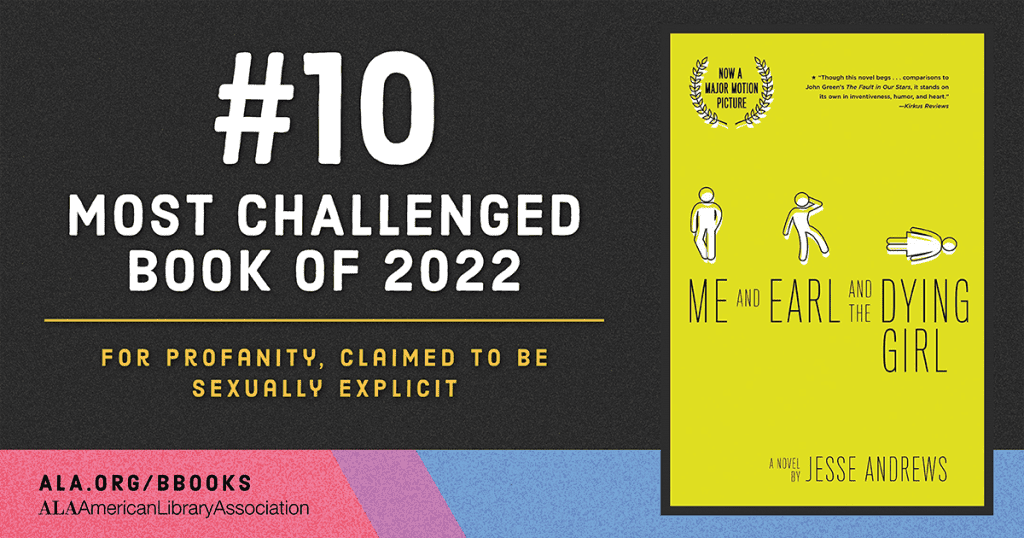 #10 (tie) Me and Earl and the Dying Girl by Jesse Andrews
print | Spanish | DVD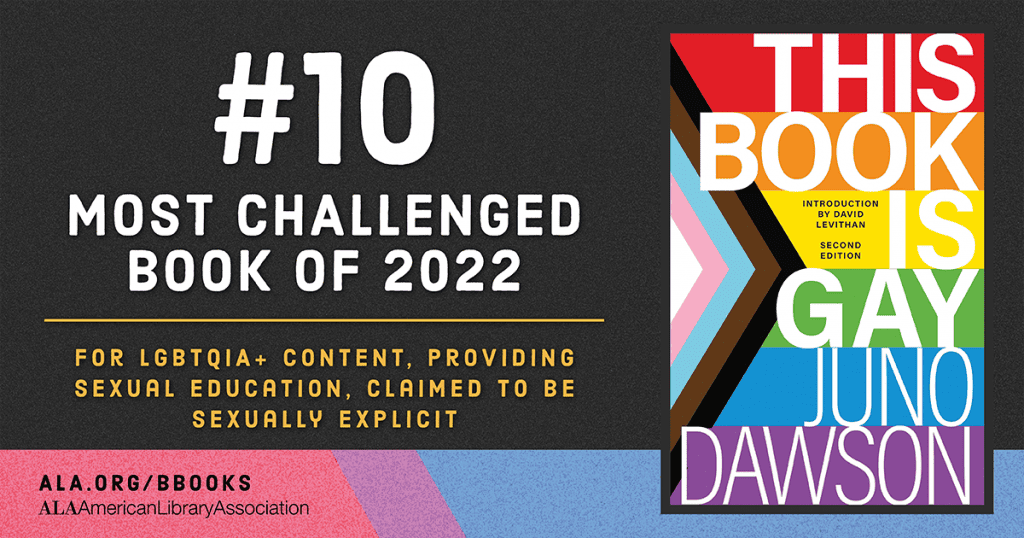 Banned Books Week 2023
Books have a long history of attracting challenges to their presence on library shelves. The theme of Banned Books Week 2023 is "Let Freedom Read." The following list contains challenged and/or banned books in two categories (note this is NOT a comprehensive list): 1) the first 13 titles are the American Library Association's Top 13 Most Challenged Books of 2022 (13 titles instead of 10 due to ties at #5 and #10 positions); 2) titles 14 through 19 are challenged and banned books written by Indiana authors including Kurt Vonnegut, John Green, and Phyllis Reynolds Naylor.

Freedom to Read — Local Challenges
In support of the freedom to read, the Indianapolis Public Library seeks to share information about challenged books during banned books week. The books on this list have been challenged locally at the Indianapolis Public Library. We've included the reason for the challenges, and a brief description of the library's response to the challenges. It includes a mix of books for children, teens and adults. Content warning: The descriptions in the list contain mature content.

Dig Deeper
If you want to dig deeper about our mission as a library you can read the Library Bill of Rights stating the rights of library users to intellectual freedom and the role public libraries play to support those rights. For more information about banned and challenged books, visit ala.org/bbooks. You might also find interesting The Freedom to Read Statement, which explains why the freedom to read is essential to our democracy. To learn more, browse our book list How Censorship Impacts the First Amendment. IndyPL's own Materials Selection Policy is also available.
"The freedom to choose or reject ideas, to read books of our choice…is the very bedrock of our free society." Kurt Vonnegut