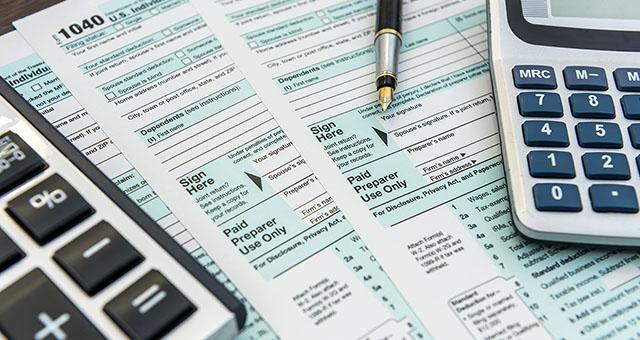 The hardest thing in the world to understand is the income tax. ~ Albert Einstein. It's time to file your taxes! Many Library patrons rely on IndyPL for tax forms and filing instruction booklets.
In order to encourage more tax payers to file electronically, both the Internal Revenue Service (IRS) and the Indiana State Department of Revenue (DOR) are limiting distribution of paper forms and instructions. Here is what to expect if you come into a Library for tax documents.
We have preprinted packets of the most common tax forms and schedule forms for free to patrons – first come, first served and only one packet per patron. (Download PDF Packet)
You may use a Library computer to view tax instructions and booklets online, or you can print them on our printers at $0.15 per black-and-white page.
We do not have instruction booklets.
Library staff cannot help you select or fill out your tax forms.
See our Frequently Asked Questions below for more information.
Links to printable tax forms online or by phone:
Find printable IRS Federal Tax Forms & instructions here or call 1-800-829-3676.
Find printable State of Indiana and County Tax Forms here or order by phone at 317-615-2581 (leave your order on voice mail, available 24 hours a day).
Tax preparation help:
The East 38th St. Branch will serve as a Volunteer Tax Assistance Program location by appointment only. Please call 317-275-4352 for more information.
The Garfield Park Branch is hosting tax help sessions. Come find out how to locate, print, and find resources to help prepare you to fill out your taxes. Plus, learn how to tell which websites are official government sites and which are not. See the schedule & register.
File Federal Taxes Free Online (if income under $72,000)
NOTE: The site says to check back January 2022 for updated information.
United Way provides MyFreeTaxes.com in partnership with the IRS's Volunteer Income Tax Assistance (VITA) program to help filers prepare their tax returns on their own or have their return prepared for them for free. You can also call MyFreeTaxes at 866-698-9435 Jan. 24 – Oct. 31.
Free Community Shred and Electronics Recycling
Do you have documents or electronics you don't want to throw out in the trash? Take advantage of Free Community Shred and Electronics Recycling to dispose of your documents and items safely and securely.
Event: Medicare Mail
Date & Time: Tuesday, October 17, 6:00pm
Location: West Indianapolis Branch
Description: Is your mailbox stuffed full of scary or suspicious-looking mail from "Medicare"? Are you not sure it's legitimate? Bring your bags full and we'll help you decide what to keep and what to shred or toss.
FAQ Filing Taxes
How do I print documents at The Library?

You can print from indypl.org/printing using the URL of a file, or by uploading a file from your device. You can also easily print from Library computers, or ask a staff member for help.
Can I get free help filing my taxes?

Library staff cannot help fill out forms, but here are some links to local organizations that can help:

Indiana freefile allows customers with lower adjusted gross incomes (AGI) to file their federal and state taxes for free using simple question and answer type software.

See our booklist for suggestions for learning more about filing income taxes.
Where can I find IRA Information?

Do you have a Roth or a Traditional Individual Retirement Account (IRA)? Use these links to find the latest information on contribution limits and withdrawals.