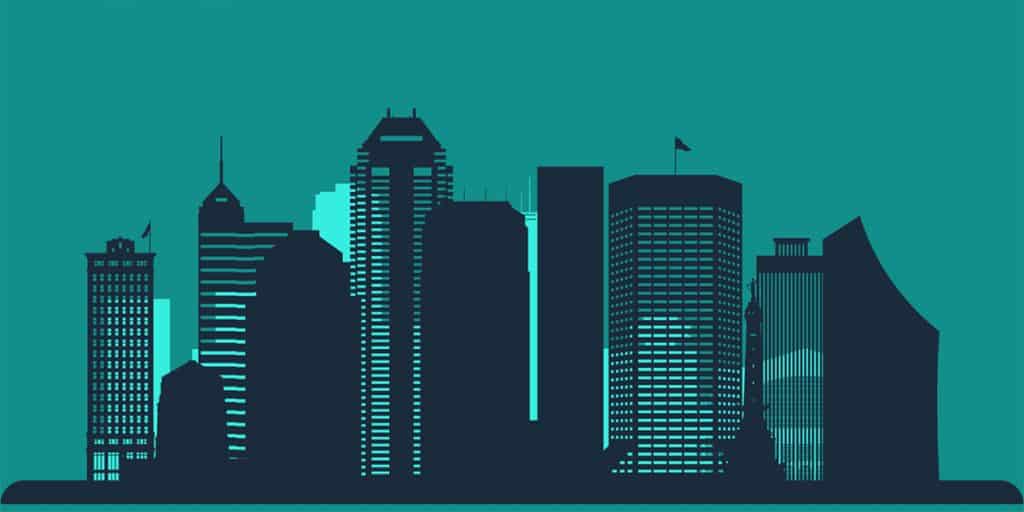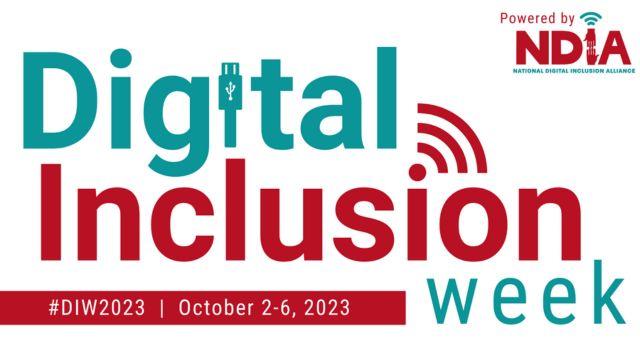 Build your digital life skills with IndyPL this Digital Inclusion Week. The digital divide is the gap between those who have affordable access, skills, and support to effectively engage online, and those who do not. This divide impacts households in Indianapolis. The Library helps bridge the gap with free public computers and wifi, free computer skill training, and helpful staff to support those still developing their digital life skills.
Every year Digital Inclusion Week is a time for raising awareness, advocating for digital equity, and promoting the many resources available to help people take advantage of digital technology. Digital Inclusion Week for 2023 is October 2 – 6. We hope you'll join us this year as we celebrate by building our digital life skills.
Read on for suggested activities you can complete to develop your own digital skills or help you take action to support digital equity in Indianapolis. Learn more about all the services The Library offers to help get you connected to the Internet. Use our computers and other technologies, both in our locations and at home. Our services are available every week, all year long.
1. Develop Your Digital Skills at The Library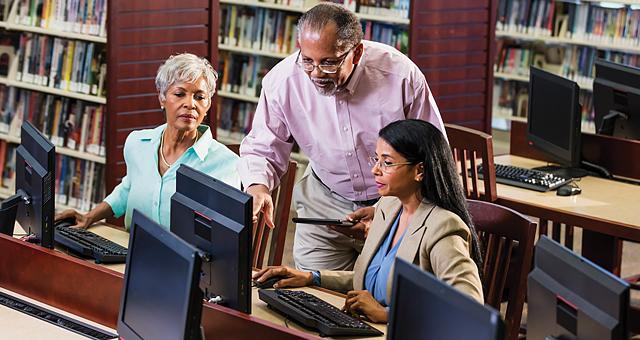 You can take computer and technology classes to build your digital life skills at The Library throughout the year. Build your digital skills with a learning plan custom designed for you.
Take an assessment in English or Spanish on The Library's Northstar Digital Literacy platform and get feedback with a learning plan tailored to the skills you need most. Assessments offered include: Basic Computer Skills, Internet Basics, Using Email, Windows 10, Microsoft Word, Microsoft Excel, Microsoft PowerPoint, Google Docs, Information Literacy, Career Search Skills, and Your Digital Footprint. Register for an at-home assessment to complete online or attend an in-person class. See the Tech Learning Lab's complete program schedule. Once you have a learning plan, you can work at your own pace to tackle online lessons to develop the digital life sklll you need most. Browse our complete listing of computer and technology classes:
Date & Time: Friday, December 08, 10:30am
Location: Central Library
Description: Do you want to build your technology skills? Take a skill assessment to develop a custom learning plan for 10+ topics including Microsoft Office, Computer Basics, Internet Basics, and more. Use your results to focus on learning the computer skills you need to be successful and meet your goals.
No Registration Required.
Event: Warren Team STEAM
Date & Time: Saturday, December 09, 10:30am
Location: Warren Branch
Description: School-age children ages 6 – 12 are invited to engage in a variety of STEAM activities. Try out games, coding, art projects, and more. Participants will have a chance to get hands-on experience with various areas of science and technology while boosting their creativity.
No Registration Required.
Date & Time: Saturday, December 09, 11:00am
Location: Garfield Park Branch
Description: Sharpen your computer skills using our self-paced learning platform, Northstar Digital. Staff will guide you through creating an account, completing lessons, and earning certificates.
2. Find affordable Internet and device access in your neighborhood.
Do you or your neighbors need help getting connected to the Internet? Looking for assistance with the cost of your Internet bill? Or purchasing affordable devices to connect with? You may qualify for the Affordable Connectivity Program (ACP).
The Affordable Connectivity Program is a Federal Communications Commission program that helps connect families and households struggling to afford Internet service. This new benefit provides:
a discount of up to $30 per month toward broadband service for eligible households and up to $75 per month for households on qualifying Tribal lands
eligible households can also receive a one-time discount of up to $100 to purchase a laptop, desktop computer, or tablet from participating providers.
Eligibility
Eligible households can enroll through a participating broadband provider or directly with the Universal Service Administrative Company (USAC) using an online or mail in application. You can learn more about the benefit, including eligibility and enrollment information. Visit the FCC's Affordable Connectivity Program page or by calling 877-384-2575.
You can also use your Library card to check out a Chromebook laptop and a device called a hotspot to connect to the Internet for free. A WiFi hotspot provides a link to the Internet from anyplace you plug it in! Borrow a hotspot or Chromebook from one of our 12 locations that currently lend them. Availability for these devices is during regular branch hours. The Chromebooks and Hot Spots are not-requestable, or renewable, but are available for check out first come, first serve.
3. Have internet but suspect it isn't reliable? Can't get broadband to your home? Share your experience.
Indiana's State Broadband Office is helping Hoosiers use their voice when it comes to their unreliable or absent broadband connectivity. Visit this website that allows users to test internet speed and answer questions regarding their connectivity.
4. Help map the solutions to the digital devide in your neighborhood.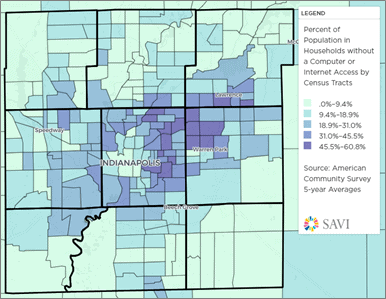 Explore Indiana's Digital Equity Map to find resources in your community. Have a resource you want to share? Submit your community digital inclusion resource to help support the states first Digital Equity Plan.
Need help? Ask a Library staff member at any of our locations or call, text or email Ask-a-Librarian.