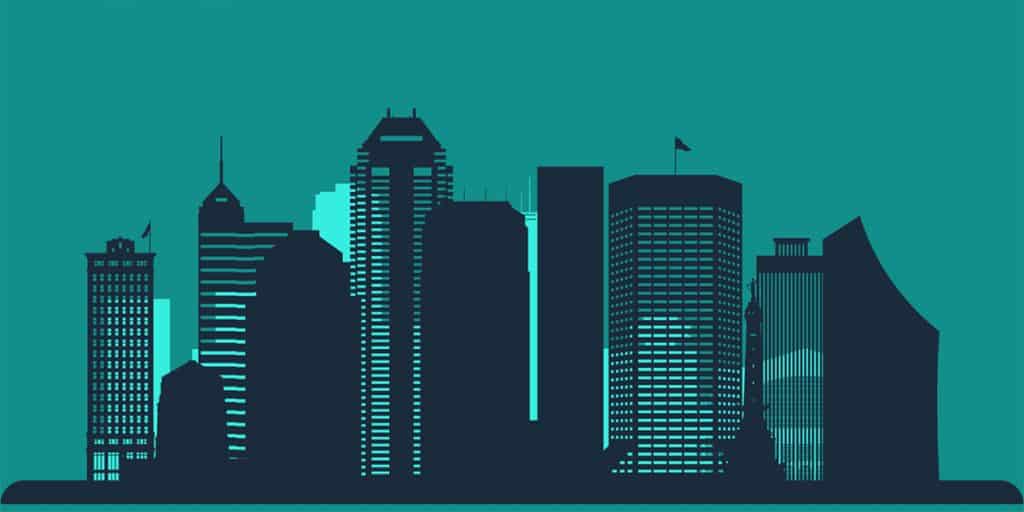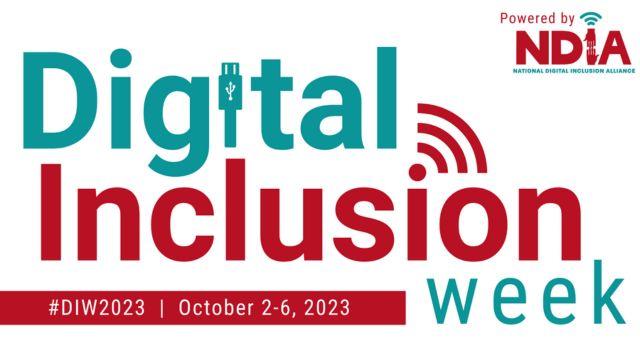 Far too many Indianapolis residents still have no way to routinely use computers, other digital devices, and the Internet. Lack of access and limited digital skills impacts residents of every age. This puts them at a disadvantage in school, work, and participation in civic affairs. Every year Digital Inclusion Week is a time for raising awareness, advocate for digital equity, and promote the many resources available to help people take advantage of digital technology. Digital Inclusion Week for 2023 is October 2 – 6.
Read on for suggested activities you can complete to develop your own digital skills or help you take action to support digital equity in Indianapolis. Learn more about all the services The Library offers to help get you connected to the Internet. Use our computers and other technologies, both in our locations and at home. Our services are available every week, all year long.
Develop Your Digital Skills at The Library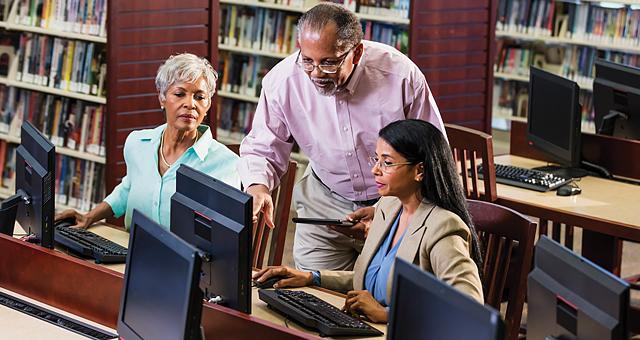 Build your skills with a learning plan custom designed for you.
Take an assessment and then a Tech Learning Specialist will be on hand to help you develop a custom learning plan. Expand your digital skill set! Skills offered include: Basic Computer Skills, Internet Basics, Using Email, Windows 10, Microsoft Word, Microsoft Excel, Microsoft PowerPoint, Google Docs, Information Literacy, Career Search Skills, and Your Digital Footprint. Register for an at-home assessment to complete online. For in-person computer and technology assistance see the program schedule for the Tech Learning Lab at Central Library.
Browse our complete listing of computer and technology classes.
Date & Time: Monday, October 02, 11:00am
Location: East 38th Street Branch
Description: Adults needing help with creating a resume, searching for a job or career online, or filling out an online job application are invited to receive free one-on-one assistance.
No Registration Required.
Event: Email Basics with Gmail
Date & Time: Monday, October 02, 1:00pm
Location: Michigan Road Branch
Description: Become more confident managing your inbox and answering emails. This session will demonstrate with Gmail. Then take a skill assessment to develop a custom learning plan to develop your Internet skills after class using the Northstar Digital Literacy online training platform.
No Registration Required.
Event: Career Center at Haughville
Date & Time: Monday, October 02, 1:00pm
Location: Haughville Branch
Description: Adults needing help with creating a resume, searching for a job or career online, or filling out an online job application are invited to receive free one-on-one assistance.
No Registration Required.
Need help? Ask a Library staff member at any of our locations or call, text or email Ask-a-Librarian.
Find affordable Internet and device access in your neighborhood.
Do you or your neighbors need help getting connected to the Internet? Reducing the cost of your Internet bill? Or purchasing affordable devices to connect with? You may qualify for the Affordable Connectivity Program (ACP)
The Affordable Connectivity Program is a Federal Communications Commission program that helps connect families and households struggling to afford Internet service. This new benefit provides:
a discount of up to $30 per month toward broadband service for eligible households and up to $75 per month for households on qualifying Tribal lands
eligible households can also receive a one-time discount of up to $100 to purchase a laptop, desktop computer, or tablet from participating providers.
Eligibility
Eligible households can enroll through a participating broadband provider or directly with the Universal Service Administrative Company (USAC) using an online or mail in application. You can learn more about the benefit, including eligibility and enrollment information. Visit the FCC's Affordable Connectivity Program page or by calling 877-384-2575.
You can also use your Library card to check out a Chromebook laptop and a device called a hotspot to connect to the Internet for free. A WiFi hotspot provides a link to the Internet from anyplace you plug it in! Borrow a hotspot or Chromebook from one of our 12 locations that currently lend them. Availability for these devices is during regular branch hours. The Chromebooks and Hot Spots are not-requestable, or renewable, but are available for check out first come, first serve.
Learn more about the digital divide here in Indy.
Develop an understanding of the digital divide with this interactive SAVI Community Profile highlighting households that lack computers or Internet access in each Township of Indianapolis.
Want to learn more about the data that defines your neighborhood or build your own community map? Develop your data literacy with free classes from the Polis Center where you can discover how to create your own community profiles on SAVI, explore how to make data-informed decisions about your community.
Help map the solutions to the digital divide in your neighborhood.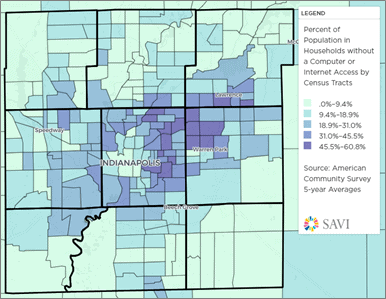 Want to help your neighbors bridge the digital divide? Contribute to our crowdsourced Digital Inclusion Week Map which will help connect your neighbors to local resources. Our goal is one hundred community contributed resource points on the map by the end of Digital Inclusion Week 2023.
Walk, bike, or drive your neighborhood to identify locations near you that offer free wi-fi, computer access, and loans of hotspots and other devices. Try to find community organizations who offer help with finding affordable Internet or computers or those that offer free digital skill training. We have included your neighborhood branch library to start the project since we can help with all of those!
Questions to Ask
Here are some questions to ask yourself to help you uncover the locations in your neighborhood that should be included on this map:
Where do you visit to get free wi-fi?
What public locations do you go to when you need to print, fax, or use a computer?
If you have a computer, phone, website, or other technology problem, where would you go to get help?
Who would you ask if you wanted to find affordable Internet? What if you needed a free or affordable computer, tablet, smartphone, or other Internet-connected device?
If you want to learn a new technology or computer skill, where would you look for classes or training?
If you identified local resources with the questions above, are there restrictions on who can use them? Is there a cost associated with accessing them? Are there fee waivers or other initiatives that help ensure equitable access? Consider including this information on your map entry.
Add your points to the map directly here or submit them with this form and a library staff member will add them for you. All submissions to the map are reviewed by staff before they are made public.