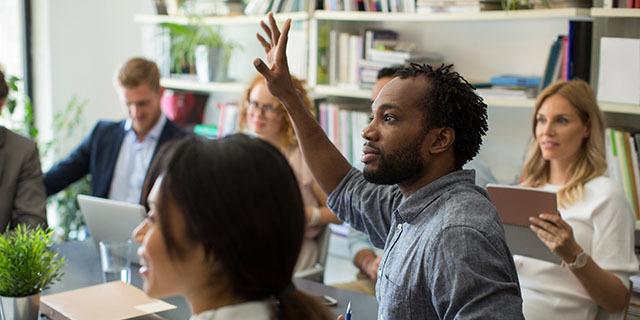 The library's nonprofit program series offers free, in-person workshops on a variety of nonprofit management topics including starting a nonprofit, fundraising, recruiting volunteers, developing a board of directors, and strategic planning. Workshops are led by local nonprofit experts. Workshops are held in both spring and fall. Our spring series has concluded for 2023 and we look forward to offering the series again in the fall.
We also offer training on using the Foundation Directory Online, a prospecting tool for researching grant funders. These sessions are led by librarians on our nonprofit team at Central library. Watch this space or the library's event page for upcoming Foundation Directory classes.
Watch one of our recorded sessions from our Spring 2021 program series available on the Library's YouTube channel. This recorded program series was made possible by Meridian Foundation, Inc. and Friends of the Library through gifts to The Indianapolis Public Library Foundation.
Series Highlights:
Starting a 501(c)(3) Nonprofit Organization
Determine whether starting a nonprofit is right for you. Marcus Bickle, Attorney & Former Project Director for the Community Development Legal Project at Indiana Legal Services, will explain what a nonprofit organization is and outline the steps required to start one.
Strategic Planning for Nonprofits
A strategic plan enables your nonprofit to look ahead and make plans for the future. Learn when and how to create an effective plan to guide your organization. Presented by: Elizabeth Coit (Liz), MBA, CFRM.
Planning Effective Programs
Discover the main components of a solid program plan that will allow your organization to provide quality services to your community. Presented by: Gail Thomas Strong.
Successful Grant Proposals
Learn about the grant application process and assess whether your organization is ready to apply for grants. Presented by: Gail Thomas Strong.
Volunteer Recruitment, Retention, and More
Learn best practices and proven methods to recruit and retain volunteers. This video will introduce tools to help guide the development of a strong and lasting volunteer workforce. Presented by: Wendy Johnson, MPA, CVA.
Questions about the Nonprofit Series? Email our Nonprofit Librarian, Chase Martin, or call Central Library and ask to speak with someone on the Nonprofit Team.
For more information, resources, funding tips, and helpful tools see our blog post Nurturing the Nonprofit Organization.