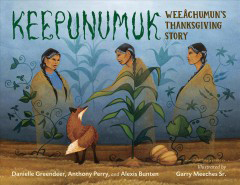 Are you looking for ways to share with children the importance of family, community, and gratitude? Or trying to make sure talking to kids about Thanksgiving includes giving them an age appropriate introduction to histry? A wonderful new book to share is Keepunumuk Weeãachumun's Thanksgiving Story by Danielle Greendeer (Mashpee Wampanoag) and Tony Perry (Chickasaw). Learn the story of Weeãachumun, who asked local Native Americans to show the newcomers how to grow food.
Watch this video to hear Alexis Bunten from the Bioneers Indigeneity Program share learning activities about sharing, valuing nature, and animal behavior. Alexis reads the story aloud, and then leads a discussion about talking to kids about Thanksgiving. A very helpful resource guide is available with all kinds of fun ideas to try at home.
Very young listeners might also enjoy Online Storytime: Thanksgiving to hear some of our favorite books to share in the days leading up to Thanksgiving. Online Storytime will include experiences to talk, read, sing, write, and play. This makes fun stories and activities about Thanksgiving include important early learning skills!
Make a selection from one of these lists to enjoy a rich variety of family traditions that are celebrations of food and gratitude.
Prayer Books for Kids – The Many Ways People Say "Thank You"
Here is a selection of prayers and stories for children to explore the prayer traditions in their own family or those of their friends and neighbors. After sharing one, talk about the ways the characters in the story prayed, or talked about the things they felt thankful for. How was it the same as how you talk about gratitude in your home? How was it different?